Throughout Scripture we are reminded of God's direction over our lives. He is our good Shepherd who leads us and He desires that we follow the path that leads to joy and contentment. When we pray for God's guidance and for discernment through the Holy Spirit, we can rest assured that God will provide wisdom! We do not have to worry about our next step or about tomorrow because we know who guides our way! Do not rush your day without going before God to seek guidance!
A Short Prayer for Guidance
Heavenly Father, thank You for Your guidance. Forgive me for getting ahead of Your plans, and help me know when to stop and listen for Your direction. Your ways are perfect, Lord. Thank You for offering gentle grace. In Jesus' Name, Amen.
– Kristine Brown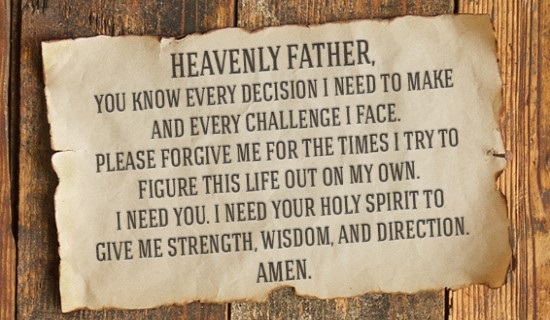 Prayer for Guidance from the Holy Spirit
Lord, I pray you would move the Spirit more boldly in my life. I know that any sin can grieve and diminish the voice of the Spirit, and I pray against the temptation to sin. Help me crave your presence more than I crave sin. Help me grow in the fruit of the Spirit and so walk closer with Yourself. I pray for guidance from your Spirit- let your will and promises always be a meditation of my heart. In Jesus' Name, Amen
– Kenny Luck
A Prayer for Guidance When Life is Challenging
Lord, I'm here today with open hands and an open heart, ready to depend on you to help me through the day and all it will bring my way. Help me be like Nehemiah, help me come to you for guidance, strength, provision and protection. As I face tough choices and hard situations, help me remember my belovedness, help me remember that I am Your child and Your representative to the world around me. Help me live today in a way that brings honor to Your holy name. In Jesus' Name, Amen.
– Charles Stanley
Father in Heaven,
You made me Your child
and called me to walk in the Light of Christ.
Free me from darkness
and keep me in the Light of Your Truth.

The Light of Jesus has scattered
the darkness of hatred and sin.
Called to that Light,
I ask for Your guidance.

Form my life in Your Truth,
my heart in Your Love.
Through the Holy Eucharist,
give me the power of Your Grace
that I may walk in the Light of Jesus
and serve Him faithfully.
PLEASE SHARE OR REPIN THIS PIN TO BLESS A FELLOW BELIEVER.
WATCH: PRAYER to Ask God for a MIRACLE
SUBSCRIBE FOR MORE PRAYER VIDEOS